Amoonsky MC158 LED Video Processor: Pioneering the New Frontier in Digital Display Technology
In the rapidly evolving landscape of digital display technology, Amoonsky stands as a frontrunner brand known for its pursuit of innovation. The MC158 emerges as its latest product, a testament to Amoonsky's commitment to reshaping the realm of digital displays.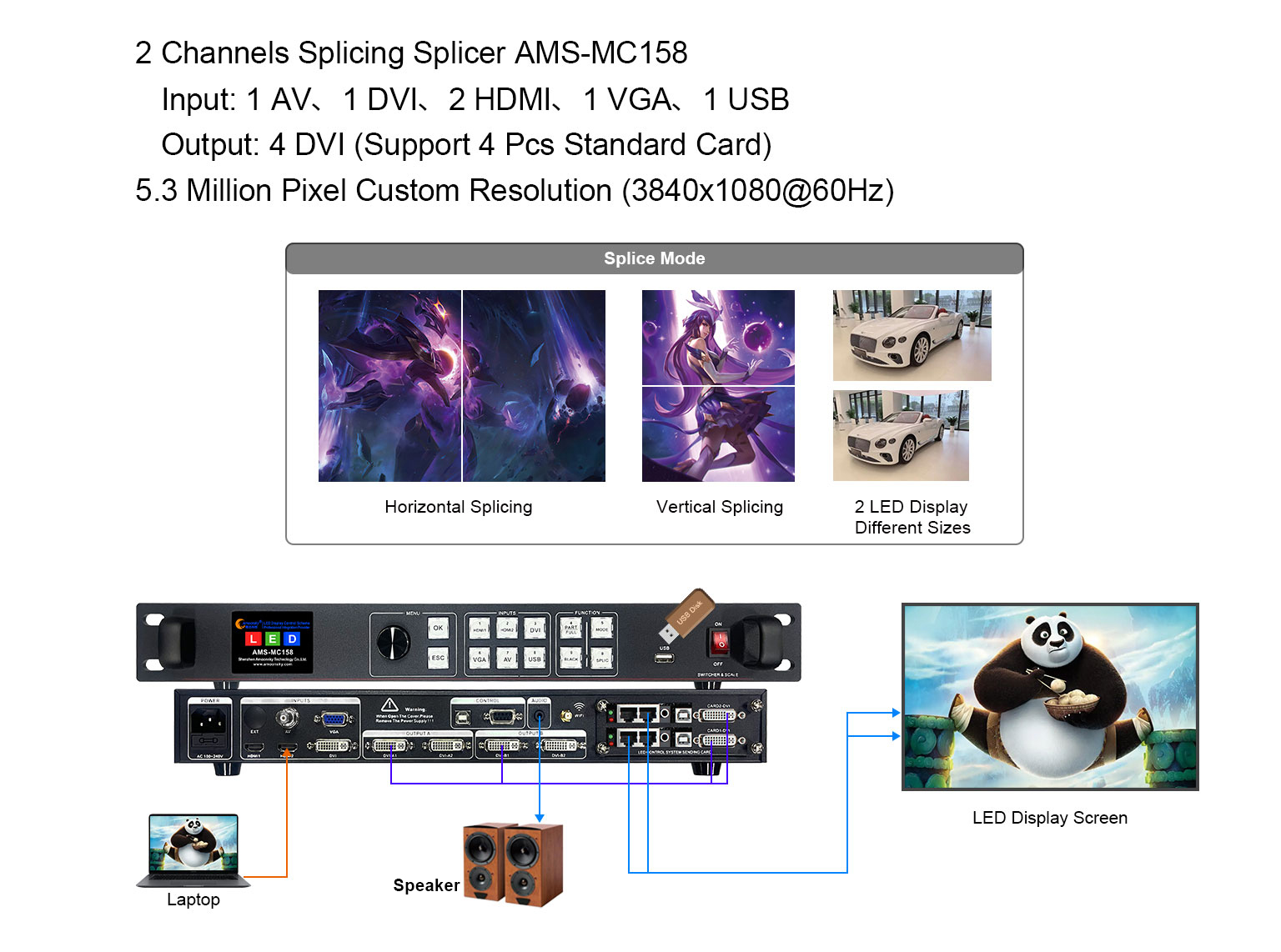 Perspective:
1. Amoonsky's Technological Innovation & Product Introduction:
The MC158 LED Video Processor by Amoonsky stands as a pinnacle of cutting-edge technology in the digital display industry. This product signifies Amoonsky's commitment to innovation and technological advancement. Its unique functionalities, such as signal fading in and out, accommodating a versatile range of six-channel analog video inputs, and supporting diverse interface connections (including AV, DVI, HDMI, VGA, and USB), demonstrate Amoonsky's relentless pursuit of pushing technological boundaries. This product introduction aims to highlight Amoonsky's dedication to technological innovation and the MC158's revolutionary features.
2. Performance Evaluation & Industry Comparison:
The MC158's performance is nothing short of exceptional, surpassing industry standards. Its remarkable resolution capabilities, diverse interface support, and flexible scene presets set it apart from competitors. In comparison with similar products, the MC158 emerges as a frontrunner, offering superior performance in resolution, interface variety, and preset scene configurations. This evaluation aims to underscore the MC158's leading position in the industry through an objective comparison with its counterparts.
3. Application Scenarios & Demonstrations:
The MC158 isn't merely a product; it's a game-changer in the LED display industry. Its deployment across various application scenarios, from large-scale events to commercial advertising displays, showcases its transformative potential. The product's stability, efficiency in image processing, and ease of operation elevate it as a preferred choice in the industry. This section aims to present MC158's real-world applications, emphasizing its impact and versatility across diverse display scenarios.
Detailed Product Functionality:
1. Signal Switching & Input/Output Capabilities:
The MC158 LED Video Processor is engineered with sophisticated signal switching functionalities, allowing seamless transitions through fading in and out. With the ability to accommodate up to six-channel analog video inputs and support a versatile range of interfaces including AV, DVI, HDMI, VGA, and USB, it ensures a flexible and comprehensive connection setup for various display needs.
2. Multi-screen Splicing & Image Processing:
With its 2-channel 4 DVI splicing output capabilities, the MC158 enables dynamic multi-screen presentations. It supports USB playback and boasts a 5.3 million pixel custom resolution capability, ensuring enhanced image processing and clarity for diverse display configurations.
3. Other Feature Insights:
Apart from its core functionalities, the MC158 offers a multitude of additional features. These include 10 groups of scene preset saving and calling, one-click blackout or image freezing, synchronous audio decoding output, and timed switching capabilities. Its maximum output resolutions are impressive, reaching up to 7680x640@60Hz, 4608x1152@60Hz, and 3840x1280@60Hz, enhancing its versatility across various display requirements.
Conclusion:
Emphasizing Amoonsky's leadership in the industry, the MC158 LED Video Processor stands as a testament to its technological prowess and innovation, guiding the direction of the industry's future developments.