In the digital age, the demand for LED displays is incessantly growing. To meet the diverse display and advertising needs across industries, we require more advanced and versatile controllers. Amoonsky proudly introduces the AX900 series LED video controller, offering an outstanding solution for your display requirements.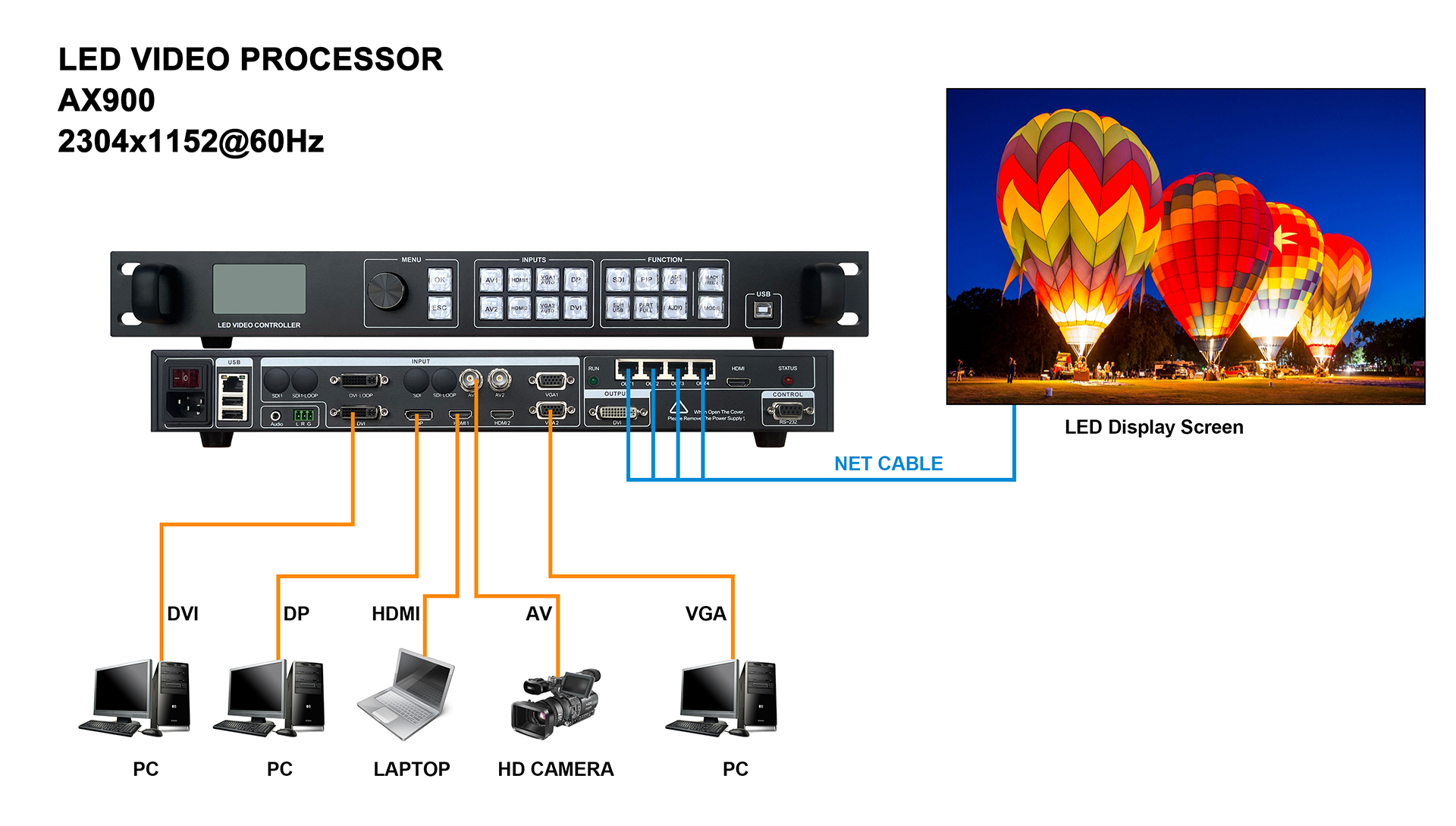 Introduction:
In the rapidly evolving digital landscape, LED displays have become integral to modern communication, marketing, and entertainment. As the demand for dynamic visual solutions surges, the need for advanced LED video controllers becomes paramount. Amoonsky proudly presents the AX900 series LED video controller, representing a cutting-edge solution poised to revolutionize the way we perceive and interact with displays.
Product Features and Functions:
Multiple Video Inputs: The AMS-AX900 integrates 8/9/10 video inputs, encompassing 2 AV (Video/CVBS), 2 VGA, 1 DVI, 2 HDMI, 1 DP, and optional 1 or 2 3G-SDI/USB/WiFi inputs, meeting both domestic and industrial needs. All video inputs seamlessly switch and can achieve quick cuts and fade-in/fade-out transition effects.
Practical Video Output Interfaces: The AMS-AX900 controller features 2 DVI video outputs and 4 RJ45 network outputs. When selecting DVI video input, one output can be allocated (LOOP OUT). The network ports serve as outputs for the built-in MSD600 sending card.
Seamless Channel Transition: This video controller facilitates seamless transitions between any channels, with adjustable transition times from 0 to 5.0 seconds. The fade-in/fade-out effect enables smooth switches between input channels, ensuring a seamless transition to the second image. Fast switching instantly changes the video output when switching input channels.
Diverse Output Resolutions: The AMS-AX900 offers multiple practical output resolutions, with the widest commonly used resolution reaching 3840 pixels and the highest at 1920 pixels, suitable for various LED displays. Users can choose from over 20 output resolutions and adjust them to point-to-point output. Custom resolutions can also be configured based on specific needs.
Signal Detection Feature: This function automatically detects signal inputs when the video controller connects to input signals. If a signal is detected, the current channel indicator light remains constant, and the LCD screen displays the signal source's size. If no signal is detected or if it's irregular, the current channel indicator light flashes continuously, and the LCD screen shows "No Signal."
PiP and PoP Support: The Picture-in-Picture technology overlays another similar or different input image without altering the original image. The AMS-AX900's PiP function allows adjustment of overlay layer size, position, borders, and facilitates Picture-outside-Picture (PoP) or dual-image displays.
One-Touch Black Screen: Crucial during performances, the black screen key quickly turns off image output when needed during shows.
Screen Freeze Function: During playback, freezing the current frame is possible to pause the image. While the screen is frozen, the operator can change the current input selection or alter routes, avoiding backstage operations that may affect the performance.
Partial and Full-Screen Quick Switching: The AMS-AX900 features practical partial screen and full-screen operations. Each input channel can independently set different cropping effects while maintaining seamless switching among channels. Users can freely adjust the current channel's partial screen size and position without affecting other channel settings.
Preset Recall Function: With 4 user presets, all user setting parameters can be stored, and the MODE shortcut key allows for quick preset recall, facilitating parameter backup and quick on-site calling functions.
Unequal and Equal Splicing: The splicing function is a vital part of the AMS-AX900, supporting both equal and unequal splicing to meet various splicing needs. Frame synchronization, zero delay, and no tailing techniques are implemented across multiple controllers, ensuring flawless performance. Unequal splicing and partial screen outputs share the same settings, detailed in the subsequent operational instructions.
30-bit Image Lossless Scaling Technology: Leveraging a dual-core image processing engine, the AMS-AX900 can handle 30-bit image scaling technology. It allows outputs from 64 to 2560 pixels and up to 10x image enlargement, resulting in a maximum display of 25600 pixels.
Unique Brightness Adjustment Technology: Equipped with an exclusive brightness adjustment function, the AMS-AX900 avoids losing hierarchy in color reproduction even after reducing brightness, enhancing color fidelity.
Instant Save Technology: The instant save technology simplifies tedious setting and manual storage processes. After adjusting parameters, users don't need to manually save them. The AMS-AX900 automatically stores user parameters in EEPROM. Even after a power outage, the parameters remain stored in the device.
34-Level GAMMA Curve: Featuring a wide range of GAMMA curves, the AMS-AX900 adapts to various brightness and color environments.
ACC ACM Image Filtering: Leveraging ACC and ACM image filtering engines, the AMS-AX900 ensures the lowest image loss rate during color processing, enhancing color accuracy.
Audio Output Support: Alongside HDMI, SDI, and USB signal inputs, the AMS-AX900 not only decodes video signals but also decodes analog audio for synchronized audiovisual output.
Remote Control Support: Utilizing a computer's RS232 interface, users can connect to the video controller and use upper-computer software to adjust output resolutions, audio switching, brightness, switch signal sources, etc.
Application Scenarios:
The AX900 series LED video controller serves as a versatile solution across various sectors due to its extensive capabilities. Here are some illustrative scenarios:
Entertainment Industry: In live events, concerts, and stage productions, the controller's seamless channel transitions and picture-in-picture functionalities enhance visual effects, ensuring captivating displays and smooth transitions between scenes.
Commercial Advertising: For advertising displays in shopping malls, retail outlets, and public spaces, the AX900's ability to support diverse output resolutions and quick black screen functions proves invaluable. It ensures optimal content delivery and swift adjustments during promotional campaigns.
Industrial Control Rooms: In control centers and command rooms, the controller's multiple video inputs, audio support, and remote control capabilities offer enhanced command over surveillance feeds, process monitoring, and data visualization across multiple screens.
Educational Institutions: In educational settings such as lecture halls and seminar rooms, the ability to freeze frames, switch between partial and full-screen displays, and support various input types facilitates dynamic teaching methods and multimedia presentations.
Broadcasting Studios: Television production studios benefit from the AX900's signal detection feature, audio output support, and the ability to seamlessly switch between input sources. These functionalities aid in producing high-quality broadcasts and versatile content presentation.
Transportation Hubs: Airports, train stations, and bus terminals utilize video walls for displaying schedules, information, and advertisements. The controller's advanced splicing capabilities and support for multiple input sources enable the creation of comprehensive and dynamic display systems.
Command and Control Centers: In mission-critical environments like military command centers or emergency response operations, the AX900's unequal splicing, signal detection, and preset recall functions play a pivotal role in managing and analyzing data across multiple screens.
These scenarios demonstrate the adaptability and utility of the AX900 series in diverse settings, catering to the specific requirements of different industries and applications.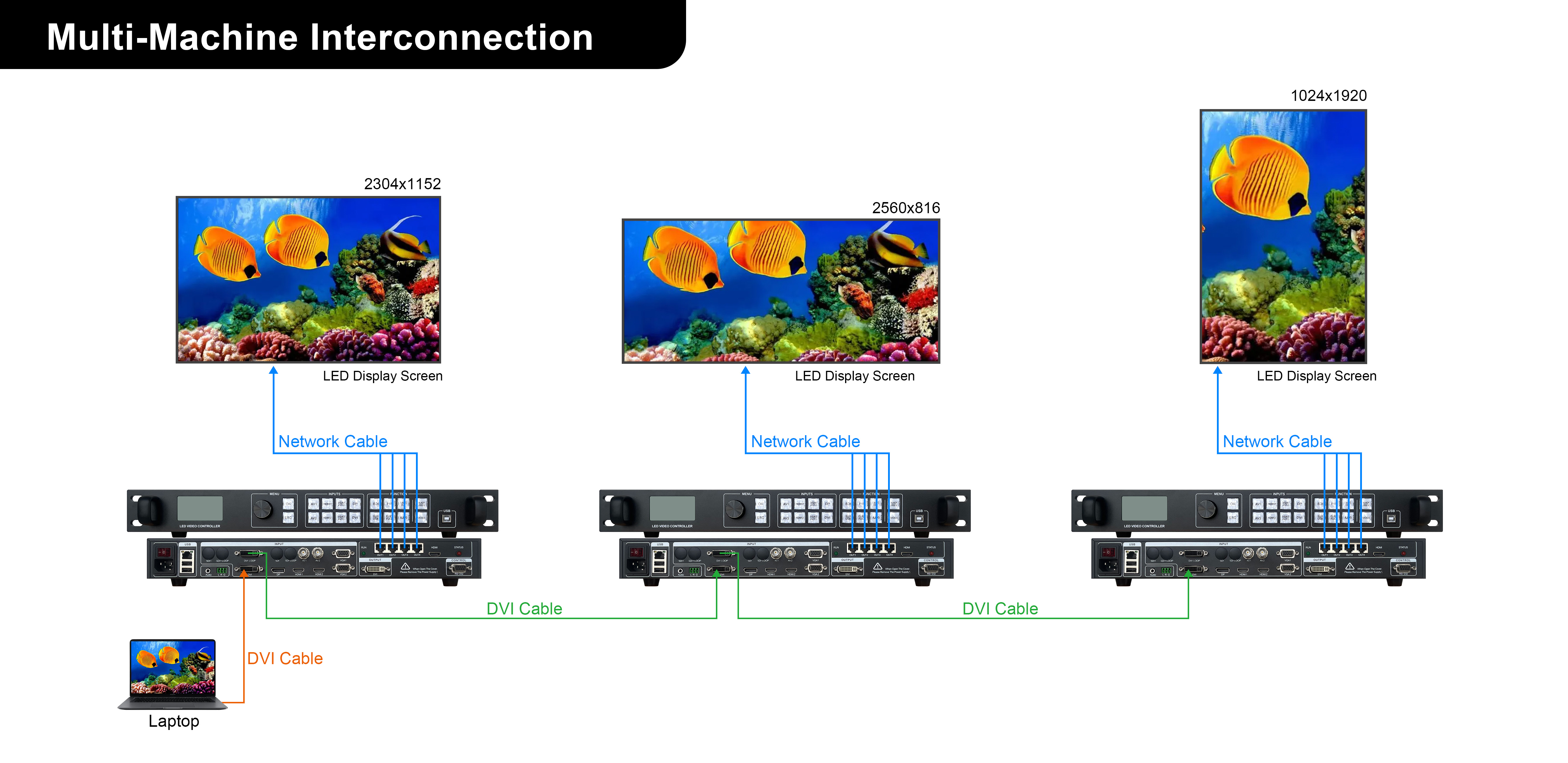 Conclusion:
The AX900 series LED video controller stands as an epitome of technological innovation, offering a comprehensive suite of features tailored to meet the dynamic demands of various industries. Its versatility in handling multiple video inputs, seamless channel transitions, and extensive output resolutions makes it a go-to solution for diverse applications.
By providing a seamless integration of cutting-edge functionalities like signal detection, picture-in-picture, and precise control over display parameters, the AX900 redefines the standards of visual presentation. Its adaptability to different scenarios, from entertainment extravaganzas to control centers, underscores its adaptability and reliability.
Furthermore, the AX900's emphasis on user convenience through preset recall functions, rapid black screen toggling, and intuitive interfaces simplifies operations, ensuring a seamless user experience.
In essence, the AX900 series LED video controller not only elevates the quality of visual displays but also streamlines operational efficiency across various sectors, promising a future where innovation meets functionality for unparalleled performance.