Amoonsky Unveils AMS-WE100: Elevating Wireless HDMI Connectivity with External Power Integration
Introduction:
In the ever-evolving landscape of high-definition content transmission, Amoonsky proudly introduces the AMS-WE100. Positioned as a sibling variant to the AMS-WE100P, this wireless HDMI transmitter&receiver embodies the pinnacle of Amoonsky's commitment to cutting-edge innovation and user-centric design. The AMS-WE100 stands as a testament to Amoonsky's unwavering dedication to providing users with advanced solutions that transcend boundaries.
With its revolutionary external power integration, the AMS-WE100 represents a fresh chapter in wireless HDMI connectivity. It not only inherits the reliability and technological sophistication of the acclaimed AMS series but also heralds a new era by seamlessly integrating external power capabilities. This unveiling marks a milestone, expanding Amoonsky's commitment to offering diverse, user-friendly, and technologically superior solutions to the ever-discerning market.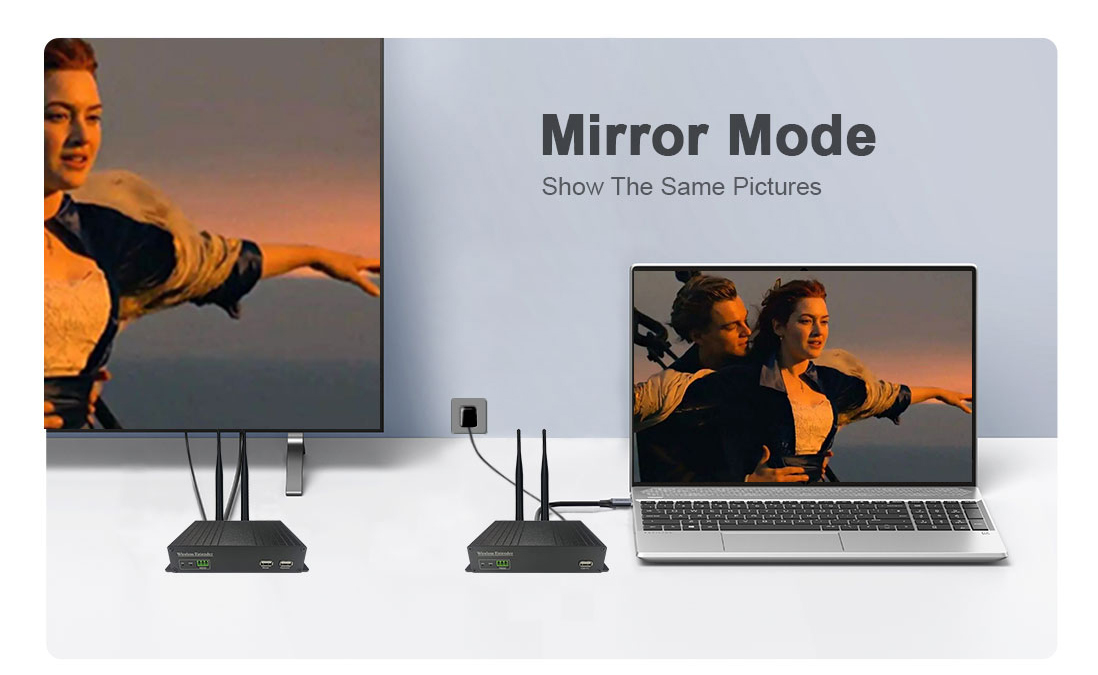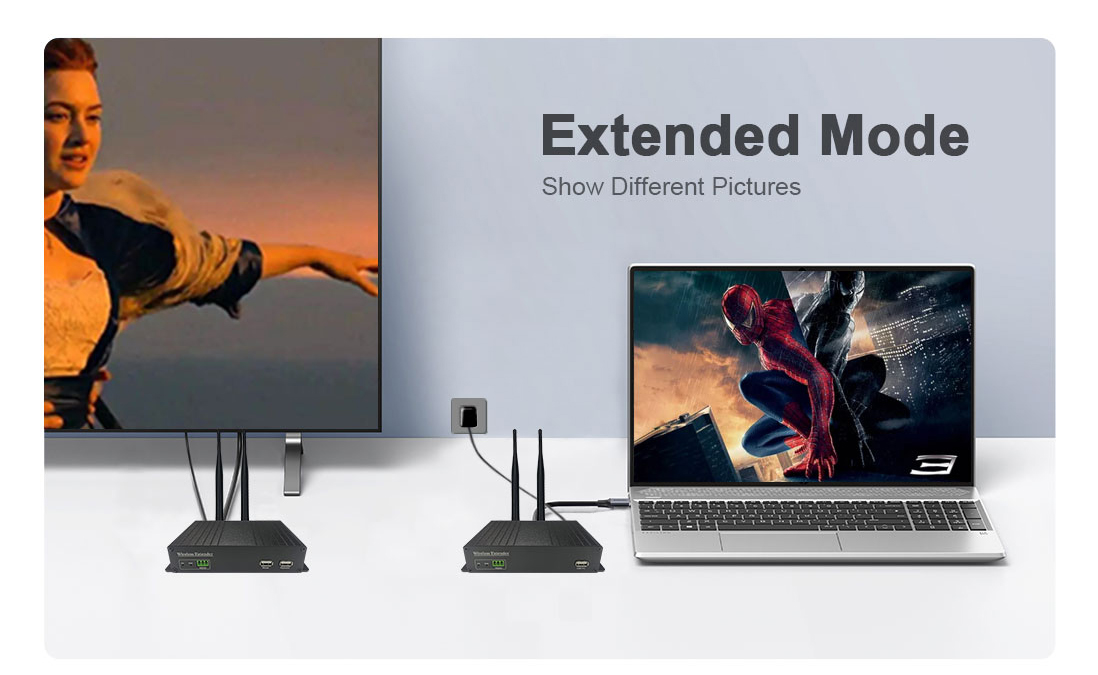 Product specifications:
High-Definition Video and Audio Transmission: The AMS-WE100 offers flawless transmission of high-definition video content, supporting resolutions up to 1080p, ensuring crystal-clear images and immersive audio experiences.
Dual-Band Wireless Technology: Leveraging both the 2.4GHz and 5GHz bands, this device delivers a stable and interference-free connection, enabling smooth streaming without signal degradation, even in congested wireless environments.
Extended Transmission Range: With an impressive transmission range of up to 200 meters, the AMS-WE100 provides unparalleled flexibility in setup, facilitating connections across large spaces without compromising signal quality.
External Power Integration: Setting it apart from its counterpart, the AMS-WE100 is designed with an external power integration option, allowing users the flexibility to choose between internal and external power sources based on their preferences and setup requirements.
HDMI Compatibility and Standards Compliance: Compliant with HDMI 1.3 standards and HDCP 1.1/1.2 protocols, this device ensures seamless compatibility with a wide range of HDMI-enabled devices, including TVs, projectors, gaming consoles, and more.
Seamless Connectivity: The AMS-WE100 ensures a seamless and reliable connection, eliminating signal dropouts or interference, providing users with uninterrupted streaming experiences.
Plug-and-Play Setup: With a straightforward installation process, users can effortlessly set up the AMS-WE100 without the need for complex configurations or software installations, ensuring hassle-free usage.
Enhanced Mobility and Portability: Its compact design and lightweight nature make the AMS-WE100 highly portable. Users can easily move and place the device wherever necessary without constraints, facilitating dynamic usage scenarios.
Robust Transmission Security: Equipped with robust encryption protocols, the AMS-WE100 ensures secure transmission of sensitive data, maintaining data integrity and confidentiality during wireless transmission.
Versatile Application Scenarios:The AMS-WE100 caters to diverse application scenarios, from home entertainment setups to professional environments, offering a reliable and adaptable solution for various usage needs.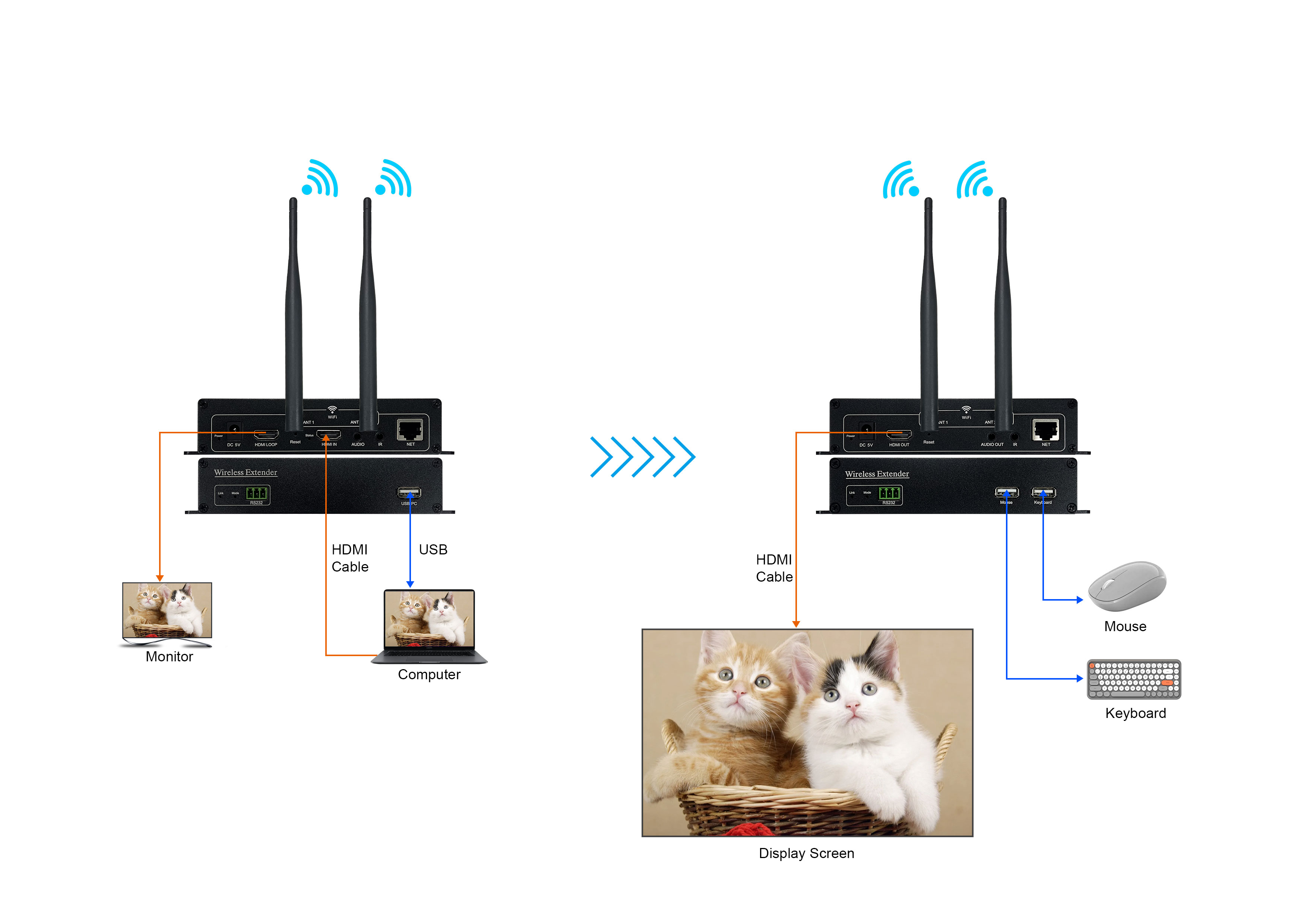 Conclusion:
At Amoonsky, we take pride in introducing the AMS-WE100 HDMI Wireless Extender - a testament to our commitment to cutting-edge technology in the realm of high-definition wireless transmission. The AMS-WE100 exemplifies our dedication to seamless connectivity, offering a wireless solution that pushes boundaries with its 200-meter transmission range and dual-frequency (2.4G+5G) transmission capability.
Moreover, our product's pure hardware design, devoid of the need for additional software configuration, ensures a hassle-free user experience. The support for HDMI 1.3, HDCP 1.1/1.2, synchronized audio-video output, individual audio interfaces, and the built-in KVM function for extending USB mouse and keyboard control further elevates the versatility of the AMS-WE100.
Our proprietary efficient transmission algorithms and automatic balancing system guarantee smooth, clear, and stable playback, enriching both home entertainment and professional settings. The AMS-WE100 is not just a product; it's a testimony to our unwavering commitment to innovation and customer satisfaction.
Explore the world of Amoonsky beyond the AMS-WE100, where a range of cutting-edge products and services awaits. Join us as we continue to redefine the landscape of wireless transmission technology.